About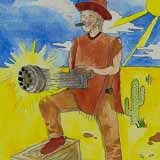 Play as Poncho Pat the meanest outlaw in the west. Shoot down other outlaws with his mini gun. You can ride Poncho Pat's horse while you blast baddies as well. You can buy horses and gun upgrades in Scruffy's store. The game has old school graphics and voice acting.
Features
Gamepad support
Scruffy's General Store where you can upgrade your gun and buy new horses
Artwork gallery
Ride horses
7 episodes in western locations
Goofy one liners
Stores
Demos
One Liners
Masculine Mustache
Bad Smell
Squeal Piggy
Big Guns
Scruffy: Free Grazer
Tips and Secrets
You should upgrade your guns before buying new horses. The different horses are just for looks.
TNT throwing enemies can hide at the edge of the screen. Try not to let them sneak up on you.
Scruffy's descendent, Scruffy owns an adventurer's specialty store in Planetventure.
The short in game sound effects are actually voice recordings.
Details
Release

Platforms

Android 2.3+
Linux (tested on Ubuntu 16.4.1)
Mac (tested on OS X 10.11.6)
Windows XP/Vista/7/8/8.1/10
Windows Phone 8+

Latest Update

Version 3.3